Office of the City Manager
Weekly Report – November 17, 2021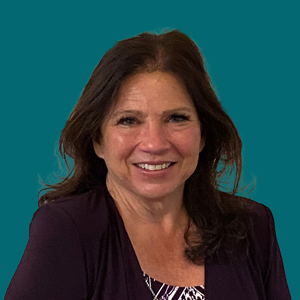 City Manager Amy Arrington
City Council will set the 2022 Property Tax Levy on November 23rd
On Tuesday, November 23rd, the City Council will be setting the property tax levy rate for 2022 which is used in the calculation of city property taxes. The City knows this is an important decision since your annual property tax bill represents one of your largest annual expenses. I wanted to take this opportunity to talk about the levy, where your dollars are going, and what you receive in return for your city property taxes.
Washington uses a levy-based property tax system. With this system, property tax increases are not necessarily based on the increasing value of properties, but rather by a specified total dollar amount collected by the City in the prior year. So, an increase in property value does not represent a dollar-for-dollar increase in property taxes. Tax rates are determined by dividing the city's total levy dollar amount by the total value of all assessed property within the jurisdiction. So, if the total assessed value of property within a jurisdiction falls, the levy rate would increase to collect the same amount of tax revenues. If assessed property values increase, then the levy rate would decrease to collect the same amount of tax revenues. For example, the current Normandy Park levy rate is $1.46 ($1.46 for every $1,000 of assessed property value). Because assessed property values increased this year, the proposed 2022 levy rate is $1.37.
State law limits City property tax increases to 1% per year without a public vote. This limitation makes it difficult for City property tax revenues to keep up with inflation, legal mandates, and demands for services from City residents. Therefore, residents were recently asked to approve a "levy lid lift," which allows the city to go beyond this 1% increase. Most cities in King County have a variety of revenue sources from which to develop their city budget. However, Normandy Park is disadvantaged by having one of the lowest levels of taxable retail sales in the county. Normandy Park depends almost solely on property taxes in combination with this modest tax levy. Thanks to the recent approval of the levy lid lift, our city will maintain a healthy budget and continue to support public safety, roads, and parks.
Once the levy rate is approved, the city notifies King County who then collects the city's property tax on behalf of Normandy Park. Because of this, many property owners think the total property tax bill is collected and used by the City. This is only partially true. On average, the City of Normandy Park receives approximately 11% of your annual property tax bill. The other 89% is distributed to other taxing districts like Highline School District, State School Fund, King County, and the Fire District. Here is a breakdown of the 2021 property tax distribution: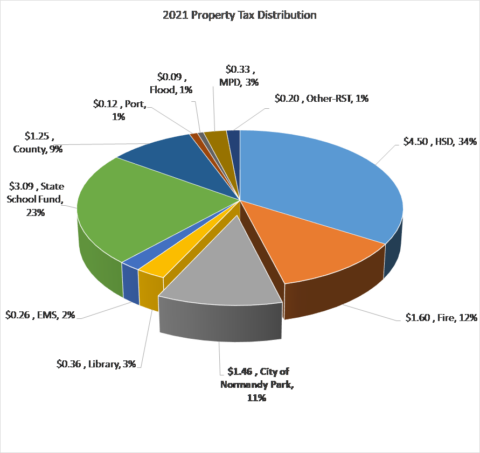 The city uses its 11% "piece of the pie" to provide services to the city, which include police, permitting, facilities maintenance, community development, and other functions like administration, finance, and clerk support services.
Here are some interesting facts about your property taxes:
28% of the levy rate you pay is voter-approved.
Low-income seniors over age 61, and people with disabilities may be able to lower their current property tax bills. The King County Assessor has full details on this program.
About 57% of your 2021 property tax revenue pays for schools (both local and state).
King County receives about 9% of your property tax payment for roads, public health, elections, parks, and other services.
The King County Tax Assessor's Office has a great Tax Transparency Tool. Click here to learn more about your property taxes.
A big thank you to the voters of Normandy Park. With your support of the levy lid lift, we can continue to provide first-class service to all residents.
If you have any questions, please get in touch with me at aarrington@normandyparkwa.gov. Have a great week!
"The city uses its 11% "piece of the pie" to provide services to the city, which include…"
Amy Arrington, City Manager
City of Normandy Park
801 SW 174th Street
Normandy Park, WA 98166
(206) 248-8246 (Direct Phone)
On Friday, December 10th, starting at 2:45 pm, Santa and one of his reindeer will be at the Normandy Park Towne Center for one last visit before he goes back…
read more