2021 Pavement Preservation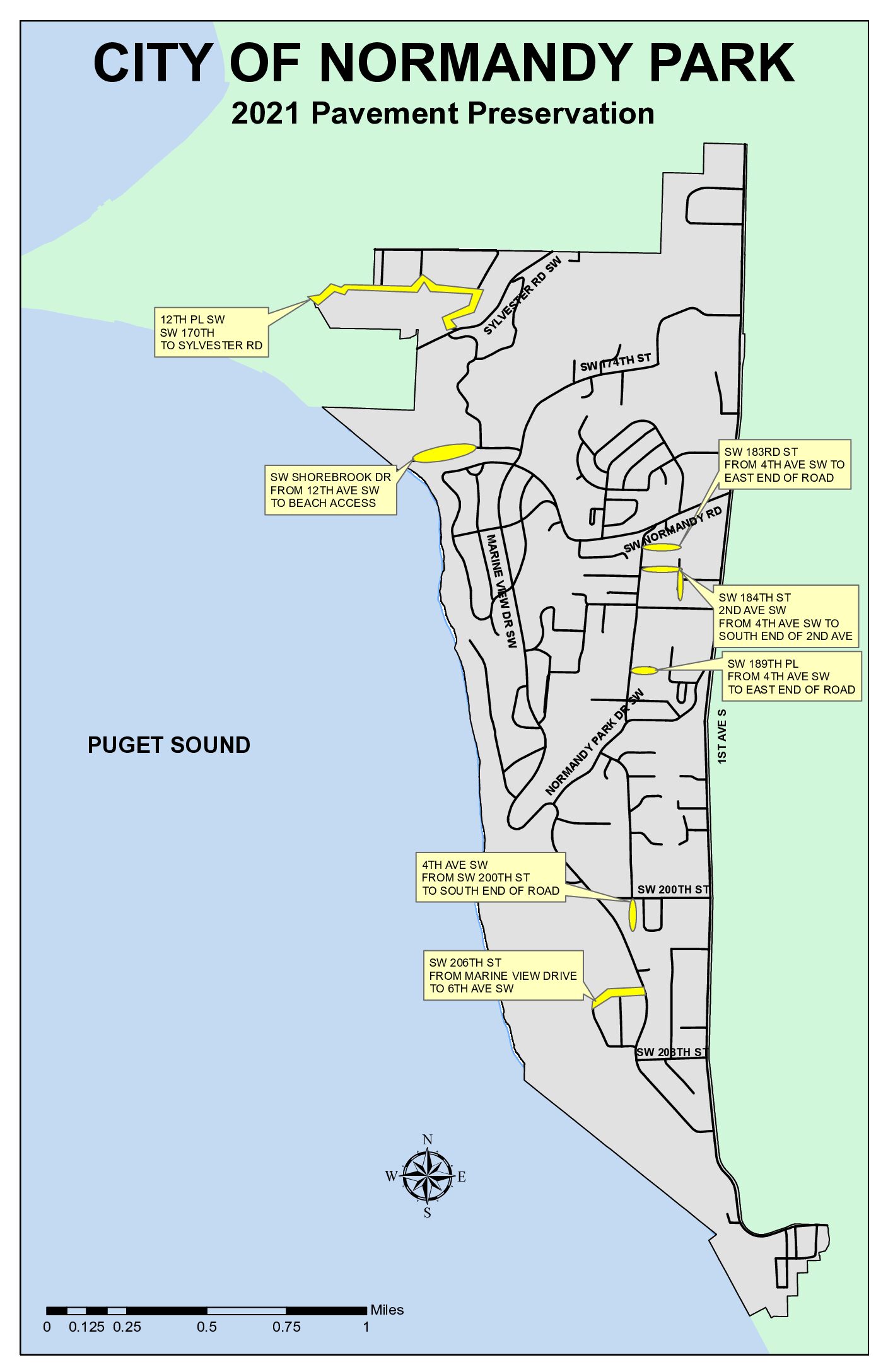 Project Summary
The City has an agreement with King County Road Services (KCRS) to overlay several road segments with new asphalt in 2021.  Funding sources for this project include Transportation Improvement District (TBD), Real Estate Excise Tax (REET) and Transportation Improvement Board (TIB) grant.
Thank you in advance for your patience and cooperation. If you have any questions, please feel free to contact Public Works Director Ken Courter (206) 248-8269 or Environmental Specialist Jessie Medrow (206) 248-8256.
Project Update
Project Timeline is based on the 2021 King County Countywide Pavement Preservation Schedule.  The City will update the project timeline as that information becomes available from King County Road Services Division.
Project Timeline
July 26, 2021 – King County will begin pavement repair and asphalt overlay at the following locations.
SW Shorebrook Dr (West of 12th Ave SW)
SW 183rd St (East of 4th Ave SW)
SW 184th St and 2nd Ave SW (East of 4th Ave SW)
SW 189th Pl (East of 4th Ave SW)
4th Ave SW (South of SW 200th St)
SW 206th St (West of Marine View Dr)
(Tentative) September 1 – September 17th – King County is slated to begin pavement repair and asphalt overlay at the SW 170th St location from 22nd Ave SW to Sylvester Rd  (see map).
Project Locations:
SW 170th St and 12th Pl SW
SW Shorebrook Dr (West of 12th Ave SW)
SW 183rd St (East of 4th Ave SW)
SW 184th St and 2nd Ave SW (East of 4th Ave SW)
SW 189th Pl (East of 4th Ave SW)
4th Ave SW (South of SW 200th St)
SW 206th St (West of Marine View Dr)
Expected Start Date:
Summer/Fall 2021
Expected Completion: Date:
Spring 2022
Actual Start Date:
July 26, 2021
Actual Completion Date:
TBD
Ken Courter
Public Works Director
(206) 248-8269
email
Jessie Medrow
Environmental Specialist
(206) 248-8256
email