22nd Avenue SW Water Main Replacement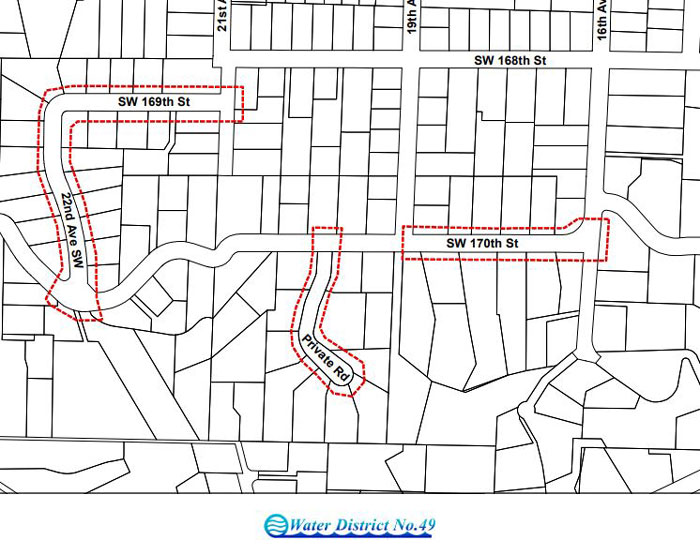 Water District No. 49 Capital Improvement Project – 22nd Ave SW Water main Replacement 2020
Project Timeline – APRIL 2020
Monday, April 13, 2020 – Crews will connect the recently installed water main which will result in temporary water shut downs for some customers. Those affected by water service interruptions will receive notification prior to the connection service.
Wednesday, April 15, 2020 – Night Work Cancelled. Normandy Park Municipal Code does not allow for construction between the hours of 9:00 pm and 7:00 am. For questions or concerns please contact Public Works Director Ken Courter (206) 248-8269.
Thursday, April 16, 2020 – The first of several residential water service shutdowns will occur. The shutdown will commence at 9:00 am and is scheduled for up to 8 hours with work anticipated to be completed in less than the eight-hour allowance.
We are aware of the community's concerns during the Governor's Stay Home, Stay Healthy proclamation. If special accommodations are necessary due to unique circumstances, please contact the Water District 49 office at (206) 242-8535.
Essential Workforce

Public Works Workers who support the operation, inspection, and maintenance of essential public works facilities and operations, including bridges, water and sewer main breaks, fleet maintenance personnel, construction of critical or strategic infrastructure, traffic signal maintenance, emergency location services for buried utilities, maintenance of digital systems infrastructure supporting public works operations, and other emergent issues
Project Summary
The 2020 CIP Water Main Replacement project consists of the replacement of 4" cast iron main with 8" ductile iron main, replacement of residential water services, replacement of fire hydrants, connection to existing mains, service transfers, and restoration. The water main replacement will occur within 22nd Avenue SW and SW 169th Street between SW 170th Street and 21st Avenue SW, within SW 170th Street between 16th Avenue SW and 19th Avenue SW, and within the cul-de-sac at the 1900 block of SW 170th Street. The project is located in the City of Burien and the City of Normandy Park. The work will be performed in late winter and early spring of 2020. For more information visit Water District No. 49 District Project website.