Sequoia and Walker Creek Culverts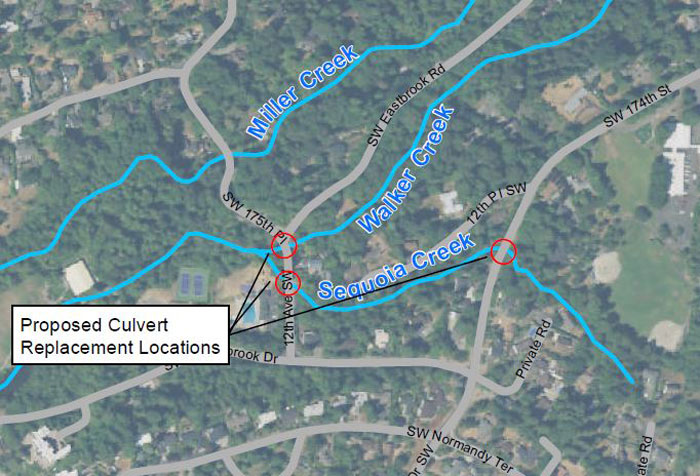 Sequoia Creek and Walker Creek Culvert Replacement Design
King County Flood District awarded Normandy Park, a $200,000 grant to design replacement culverts. The Flood Reduction Grant will fund preliminary design. The project will include the design of three existing culverts in Normandy Park sized to convey 100-year flows. The culverts will be designed as fish-passable culverts or bridges. The City is currently working with an engineering consultant to prepare a feasibility study and engineering plans.  King County Flood District passed resolution FCD2019-13.2 to create their 2020 annual budget.  This resolution added money to the Flood Reduction Grant fund.  An opportunity became available to the city to receive supplemental grant funds.  The amendment will add $300,000 to the existing grant, for a new total grant amount of $500,000, which will fund the design of both culverts. 
Project Timeline
February 2020 – Surveying and monitoring activities will take place in along portions of the Sequoia and Walker Creeks.
May 2020 – A geotechnical consultant plans to perform their drilling work for the culvert replacement feasibility study. Crews will implement state guidelines for work allowed at this time.