2021 Stormwater Drainage Improvement Projects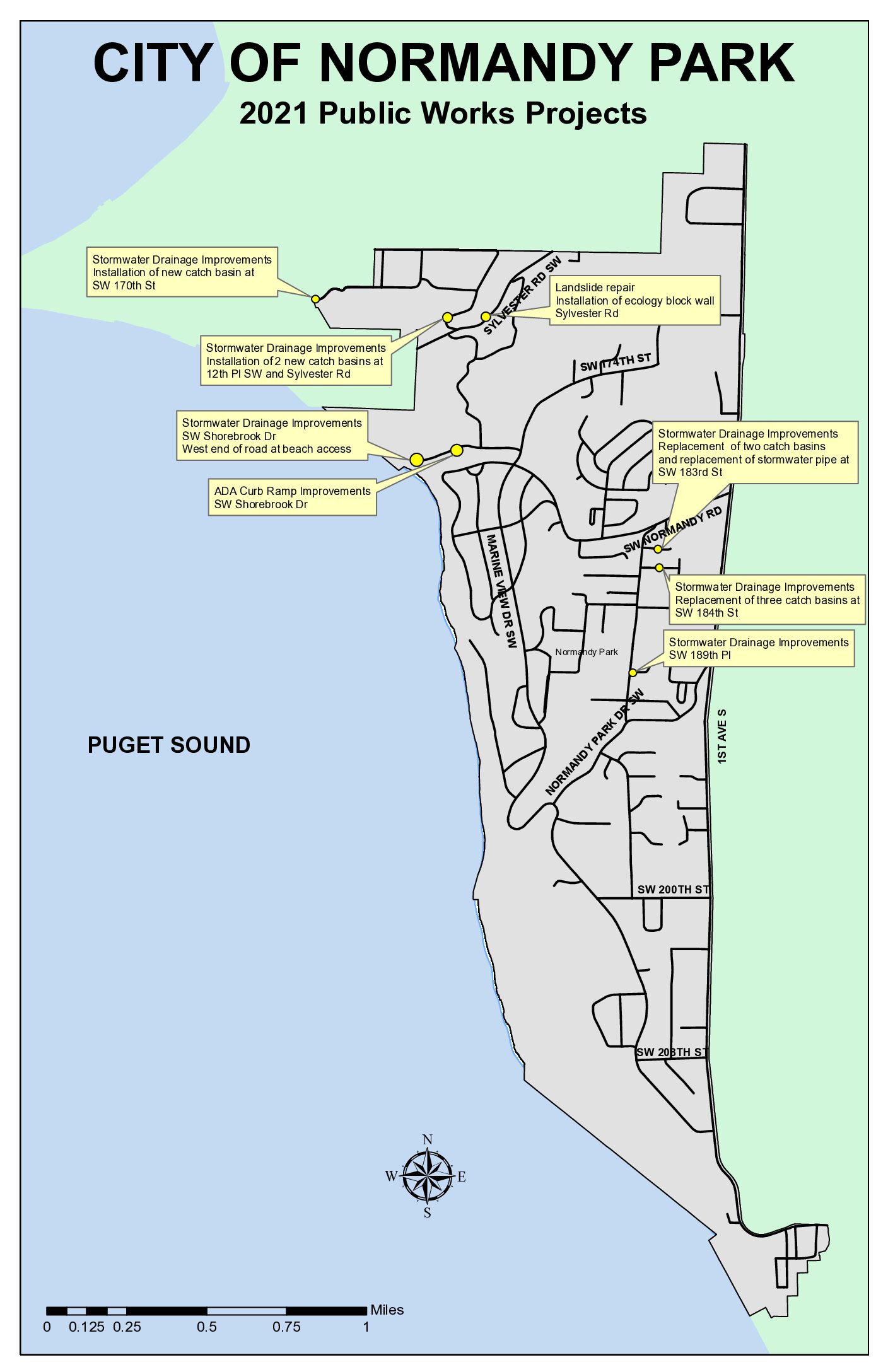 Project Summary
This project consists of construction of storm improvements at various locations throughout Normandy Park. The work includes new catch basins, pipe, ditch regrading, and an infiltration trench. In addition, the Project also includes the construction of a concrete block retaining wall to stabilize a slide area on Sylvester Road, and an ADA compliant ramp on SW Shorebrook Drive. Other work includes saw cutting, HMA pavement patches, demolition, haul, disposal, surface restoration, erosion control, and temporary traffic control. All work is being done in advance of the 2021 King County Overlay.
Thank you in advance for your patience and cooperation. If you have any questions, please feel free to contact Public Works Director Ken Courter (206) 248-8269 or Environmental Specialist Jessie Medrow (206) 248-8256.
Project Update
April 28, 2021 – Bid Opening Scheduled for 1:00pm at Normandy Park City Hall
Project Timeline
This section will be updated once contracts are finalized.
Project Locations:
SW 170th St and 12th Pl SW
Sylvester Rd SW
SW Shorebrook Dr (West of 12th Ave SW)
SW 183rd St (East of 4th Ave SW)
SW 184th St and 2nd Ave SW (East of 4th Ave SW)
SW 189th Pl (East of 4th Ave SW)
Phase 1
Expected Start Date:
June 2021
Expected Completion: Date:
August 2021
Actual Start Date:
TBD
Actual Completion Date:
TBD
Ken Courter
Public Works Director
(206) 248-8269
email
Jessie Medrow
Environmental Specialist
(206) 248-8256
email