2023 Arbor Day Festival & Poster Contest
Normandy Park is excited to host its Second Annual Arbor Day Festival! Join us for this free, family-friendly event on Saturday, April 29th, from 10-12pm at Marvista Park. We'll be giving away baby trees and have a tree-potting station. There will also be crafts, an 'Ask the Arborist' booth, lessons on stormwater, forestry and salmon, the Environmental Science Center, King County Library System craft, library sign-up and giveaway, a poster contest for preschool, elementary school, middle school, high school, adult, and much more! NEW! We're also adding a free compost giveaway (while supplies last). 
Download the entry form for more info on the poster contest. We hope to see you there!
Saturday, April 29, 2023
10-12pm
Marvista Park
19800 4th Ave SW,
Normandy Park, WA 98166
(Trees are free while supplies last, overflow parking available at Marvista Elementary School)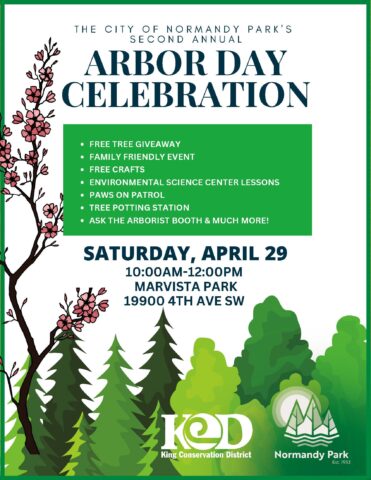 Enhancing The Community With Parks
The City of Normandy Park was incorporated in 1953 and consists primarily of single-family dwellings on residential lots varying in size from 7,200 square feet to several acres. The large lot size has helped maintain a scenic woodland quality. Park development has generally enhanced and preserved the wooded setting of the community while providing a variety of recreational outlets within the community.
City Parks
The City of Normandy Park has over 100 acres of parkland, all of which are open to the public. There are six major parks within the City, two of which are low-intensity nature preserves, and several mini or pocket parks.
Find Parks, features, locations, and more
Parks with address list
Marvista Park
About
This park and playground has five acres of fully-developed land with grass, sidewalks, and landscaping (mostly level with some small slopes and mounds).
Facility and Equipment
This site includes children's play equipment, community garden patches, a rose garden, a paved ADA accessible trail, benches and picnic tables., an ADA compliant restroom and a large gazebo
that is used for band concerts and which can be rented for picnics. 
Principle Recreational Uses
Children play area, gardening, and picnicking and passive program activities. The popular Music in the Park concert series is held here.
Marvista Park Community Garden
The garden plots are assigned by a lottery each spring. The 2023 lottery is under way. To be entered into the lottery for a garden plot for the 2023 growing season please fill out the lottery form and return it to City Hall. Forms will be accepted starting on January 1, 2023.
Take a look at the Pea Patch Garden from this map view.
For more information about the lottery, contact Parks and Recreation at (206) 248-8258.
Recreational Trails
Normandy Park Walking Trail Loop: The Normandy Park Walking Trail system consists of three interconnected loops. The Red Loop is approximately 2.2 miles long and is relatively hilly. The Red Loop originates at City Hall Park (where there are public parking, bathrooms and drinking water) and follows 174th Street to Marine View Drive, then left on to Shoremont Avenue, continues up the hill on Normandy Terrace to Normandy Road, then onto 1st Avenue to 178th Street winding back to City Hall Park. The Yellow Loop, located in the center of the city, is about 2.6 miles long and is also hilly, but not as steep as the red loop. The Yellow Loop originates at Natural Trails Park, follows Marine View Drive to Normandy Park Drive, then north on 4th Avenue to Shoremont, which connects to Marine View Drive and returns to Natural Trails Park. The Green Loop is about 2.3 miles long and is the least hilly route. The Green Loop route originates at Marvista Park and follows 4th Avenue to Normandy Park Drive, then Marine View Drive to 208th Street then follows 2nd Avenue back to 200th Street and returns to Marvista Park. A more challenging route of 5.7 miles can be walked by following the outside perimeter of the three loops.
Parks & Recreation Open Space Plan Update RFP
The City of Normandy Park is accepting proposals for a Parks and Recreation, Open Space Plan. The PROS Plan document will update the information on past planning efforts approved by the City Council. The current project aims to produce an updated PROS Plan that will guide the City in its management and development of park properties and recreation programs for the next twenty years.
Respondents must submit sealed proposals to Parks & Recreation Manager, Aimee Lloyd at Normandy Park City Hall 801 SW 174th Street, Normandy Park, WA. 98166 by 4:00 pm Friday, March 3, 2023. Copies of the RFP are available at City Hall or through this link: Parks & Recreation Open Space Plan RFP (normandyparkwa.gov)
For more information contact Parks & Recreation Manager, Aimee Lloyd, 206.248.8258 or [email protected]
Park Improvements
The 2017 – 2023 Parks Comprehensive Plan is developed in accordance with planning guidelines from the State's Recreation and Conservation Board and the Growth Management Act (GMA). The Parks Comprehensive Plan represents an effort to address maintenance, functionality, safety, aesthetics, and service standards for existing parks. Through its goals, the plan also addresses acquisition standards for future parks and provides a look at a plan for the continued development of the park system and open spaces. It provides a prioritized list of projects and should be used as a guide when developing citywide policy and documents affecting parks and recreation.
The 2016 Nature Trails Urban Forestry Management Plan and subsequent 2019 Monitoring Report and As-built Report illustrate the Comprehensive Plan and PROS Plan highlights the need to promote the health, structure, and function of the natural forest areas, and to guide the restoration and stewardship of Nature Trails Park.