Recreation & Community Department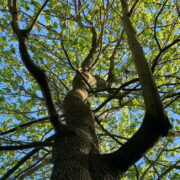 Parks & Recreation Director
The City of Normandy Park is honoring Arbor Day and wants you to celebrate with us!
As part of the festivities, the city is hosting an all-age art poster contest. The contest's theme is "If I Were a Tree" The theme is designed to provide wonder and inspire a greater appreciation of the beautiful assortment of trees that make up Normandy Park's community forest. There will be four winning entries, one from each of the following categories: elementary school, middle school, high school, and adult. Entries may be used for outreach, education, and future tree-related programs and events.
First-place winners for each category will receive a prize package.
Saturday, April 30th
10:00 am to 12:00 pm
At Marvista Park.
Entry forms can be found on the city website at www.normandyparkwa.gov or contact City Hall at 206.248.7603.
All posters are due to the City of Normandy Park by April 26, 2022.
Posters can be mailed to us at the following location:
City of Normandy Park
Arbor Day Poster Contest
801 SW 174th Street
Normandy Park, WA 98166
Need ideas? Explore these questions:
If I were a tree, what would I need to be healthy and strong?
If I were a tree, what kind would I be?
If I were a tree, what might I see?
If I were a tree, how would others see me?
If I were a tree, what kinds of critters might visit me?
If I were a tree, who would appreciate me?
"All posters are due to the City of Normandy Park by April 26, 2022"
Parks & Recreation Director
City of Normandy Park
801 SW 174th Street
Normandy Park, WA 98166
(206) 248-8257 (Direct Phone)
This person will work closely with the Head Teacher in planning, presenting, evaluating, and assisting in the educational and recreational activities of preschool-age…
read more