Recreation & Community Department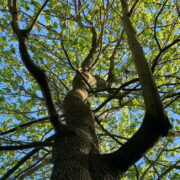 Parks & Recreation Director
The City of Normandy Park Arts Commission is pleased to announce a Call for Artists for a sculpture for Nist Family Park. This request for proposals is seeking artists who will design and create a sculpture for Nist Park, located at 242 SW Normandy Road, Normandy Park, WA. 98166. Proposed designs should tell a story and reflect the history, culture and environment of Nist Family Park and Normandy Park.
Nist Family Park was donated to the City in 2002 from longtime resident Emmet J. Nist. Located in Manhattan View Neighborhood, this 5.23 acre park features woodland trails and an open sloping lawn which provides spectacular views over the community to the Salish Sea. Emmet's farm was known for having a horse pasture with apple trees. "Tonto" was a beloved Arabian paint horse that lived on his farm for many years and was infamous for escaping and visiting neighboring backyards. This park has excellent winter sledding, picnic tables, a parking lot, and both forested and meadow walking trails. The park is home to fruit trees and an edible berry garden that neighbors enjoy during the growing season.
Submitted works will be evaluated based on four criteria:
Aesthetics – Characteristics such as being compelling, original, approachable, skillful, and satisfying.
Durability – The work must be able to be outdoors for many years, in an accessible, unregulated public park space. The sculpture must pass safety inspection prior to installation.
Safety – Does it have features that could cause injury to a person coming in contact with it? Would it invite climbing or other inappropriate interaction?
Suitability – This has two parts, one is whether the work would fit into the park environment. The other is whether it would be appropriate for viewing by our general population of Nist Park visitors.
Who May Apply:
Professional artists experienced in larger scale public art installation.  Local Washington State artists with sculpture abilities, but without largescale public art installation experience, are still encouraged to apply.
Funding:
The selected artist will receive $16,000 for designing, creating, and transporting their artwork for Nist Park. The City will provide for engineering review and installation of the artwork.
Detailed Requirements: Please prepare and submit the following:
A letter of interest outlining your approach to public art and summarizing your interest in this project. Describe any experience with projects of a similar scope and include anything that might help us differentiate you as a candidate. Fill out the attached application form with your name, address, phone number, and email address.
Professional resume/CV (limit 2 pages). Artists working collaboratively may submit a resume/CV for each member.
8 images of past works, preferably created within past 5 years. Each file size less than 1 MB. Include brief descriptions (1-2 sentences) for each image. Also include title, dimensions, materials, date, location, budget/cost, and commissioning entity (if applicable).
Provide three professional references from past projects. Include name, title, and contact information.
Selection Criteria
In reviewing artist applications, we will be applying the following criteria:
The design is appropriate for a public park.
The Artist demonstrates the ability to complete this type of work.
Application deadline: June 11, 2021 by 4:00 pm
The City reserves the right to adjust the due date and to add additional rounds of calls for proposals and/or not award commission to any submission. All submitted applications will become the property of the City and will not be returned to the Artist.
Application Review Process:
Award recommendations will be reviewed by a jury of up to 8 people total and comprised of City staff, Normandy Park Art Commissioners, Normandy Park Park Commissioners, and local residents. Applications are reviewed on a competitive basis according to the overall purpose of the program and the selection criteria
Schedule:
Call for artists: April 10, 2021
Proposals due & received: June 11, 2021 by 4:00 pm
Contract Award: July 2, 2021
Applicant notification: July 8, 2021
Final sculpture delivered: December 15, 2021
Installation: December 2021
Payment:
Payment will be made at the end of the project after the sculpture is received. Checks are normally mailed within 30 days of receiving the invoice.
Contact:
For more information and an application packet please contact Ken Courter, Public Works  Director, 206.248.8269, kcourter@normandyparkwa.gov
Call to Artists for Nist Family Park Sculpture – June 11 Deadline
Application Deadline is June 11, 2021
City of Normandy Park
801 SW 174th Street
Normandy Park, WA 98166
(206) 248-8257 (Direct Phone)
The City of Normandy Park Arts Commission is pleased to announce a Call for Artists for a sculpture for Nist Family Park. Deadline to apply is March 1, 2021…
read more